By Keith Richard D. Mariano,
Reporter
Posted on February 21, 2017
APOLLO GLOBAL Capital, Inc. is taking over miner JDVC Resources Corp. in a transaction that will result in the latter's listing on the Philippine Stock Exchange through the backdoor.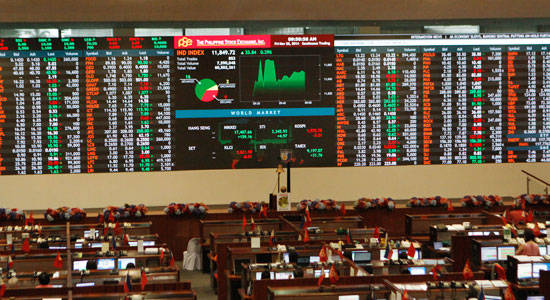 The top view of the trading floor at the Philippine Stock Exchange is seen in this photo — BW FILE PHOTO
In a regulatory filing, the listed company said its board of directors approved on Friday the issuance of 247,396,071,520 shares to the owners of JDVC Resources in exchange for 4,133,740 common shares of the private firm.
The transaction will allow the major shareholders of JDVC Resources — Hyung Rae Doo, Napoleon M. Deleon, Jr., Garry Lincoln C. Taboso and Daniel Chua Go — to acquire a 41.23% stake in Apollo Global for P2.47 billion.
The listed company formerly known as Yehey! Corp. will control 83% of JDVC Resources' outstanding capital stock as payment for the shares it intends to issue from the proposed increase in its authorized capital stock.
The stockholders and board of Apollo Global approved last Dec. 14 the increase in the company's authorized capital stock to P6 billion divided into 600 billion common shares from the current P1 billion divided into 100 million common shares.
Of the increase in Apollo Global's capital stock, Mr. Doo will subscribe to 109,065,080,064 shares; Mr. Deleon to 46,224,878,304 shares; Mr. Taboso to 46,471,972,000 shares; and Mr. Go to 45,634,040,152 shares.
"The purpose of the transaction is to revive the business operations of and give value to APL," read the disclosure, referring to Apollo Global by its ticker symbol.
"As may be noted from its financial statements, APL has no substantial assets. Through the transaction, a new business will be infused into APL which will allow it to take initial steps towards providing its shareholders with better returns on their investment."
Incorporated in 1998, Apollo Global aimed to engage in conceptualizing, designing, illustrating, process and editing Web sites; other pre-production and post-production work on Web sites; and selling and marketing such products in the domestic and export markets.
In 2012, Apollo Global went public by listing 278 million common shares through introduction on the stock exchange. Vantage Equities, Inc. had owned 66.95% of the company until divesting the entire stake to individual shareholders for P290 million in 2015.
The latest transaction involving JDVC Resources will decrease the public ownership of Apollo Global to 10% from 33.05% but increase its foreign ownership to 39.66% from 0.28%, according to the disclosure.
In a notice, the PSE announced the arrangement between Apollo Global and JDVC Resources amounts to a backdoor listing, and suspended trading in the listed company's shares effective Monday.
The PSE, under the Supplemental Rule 7 it released in September 2006, deems a backdoor listing to have occurred "when a listed company acquires or merges or combines with an unlisted company, or when a listed company is acquired by, merged or combined with an unlisted company."
"After a review of the relevant disclosures filed by APL, the exchange deems that the above-mentioned transaction is covered by the Exchange's Rules on Backdoor Listing," read the notice released on Monday.
JDVC Resources holds a mineral production sharing agreement with the government for magnetite and associated mineral resources over 13,240 hectares in Sanchez Mira, Pamplona, Abulug, Ballesteros, Aparri, Buguey and Gonzaga in Cagayan.
Prior to acquiring a stake in Apollo Global, the miner had considered merging with listed Island Information and Technology, Inc. (IITI) in January 2015.
IITI was incorporated as Island Oil Co. in 1959 to engage primarily in oil exploration and mineral development. Because of losses, the company shifted to metal mining in Isabela and changed its name to Island Mining & Industrial Corp. in 1965.
The increasing costs of operations, fluctuating metal prices in the world market and deteriorating peace and order situation prompted Island Mining to suspend its operations in 1981. The company would then change its business to information technology and adopt its present name in 2000.
In 2005, IITI again amended its primary purpose to provide cargo container management and integrated logistics services. The provision of information technology services then became its secondary business.